Race to Africa 2020 completed – 20,000km in 100 days.
With all of your help we managed to raise an astonishing
£31,209!
Race To Africa 2020
This year has brought challenges to many people across the globe, and TackleAfrica hasn't been exempt from that. With the COVID-19 pandemic, our fundraising opportunities have been limited, and thus we had to think outside of the box in order to sustain funding for our continued projects throughout Africa.
With various restrictions and safety precautions in place in each country, we came to the conclusion that our summer campaign couldn't involve the mass meeting of participants and instead we ran with the idea of a virtual fundraiser. The Race to Africa meant that people all over the world could take part without breaking any lockdown rules or endangering their own health – we want to give a big thanks to John Sewell who helped us develop the idea into something credible.
430 participants, 8 individual campaigns, 25 countries all in 100 days
The Race to Africa entailed virtually running, walking, swimming, cycling or, believe it or not, handstanding through 25 countries, including the 12 African nations that we work in. The route took us from London to Durban, covering an approximate 20,000km, so it seemed fitting to set an equally ambitious monetary of £20,000.
Participation was made easy; we asked our supporters to simply travel a distance of their choice, make a donation however large they liked, and tell us about it on any of our social media platforms. With social media and various other online tools, we'd gradually add on everyone's contributions and keep followers updated on how far we'd got and how much money we'd raised together.
The Race to Africa comfortably surpassed our ambitions;
We had an incredible turn-out with 430 people getting involved, on average taking us an extra 46.5km each! This was of course boosted by a selection of Race to Africa legends; we'd like to congratulate some of those that completed personal spin-off campaigns to significantly boost the overall push – click on the images below to find out their stories and how they took part!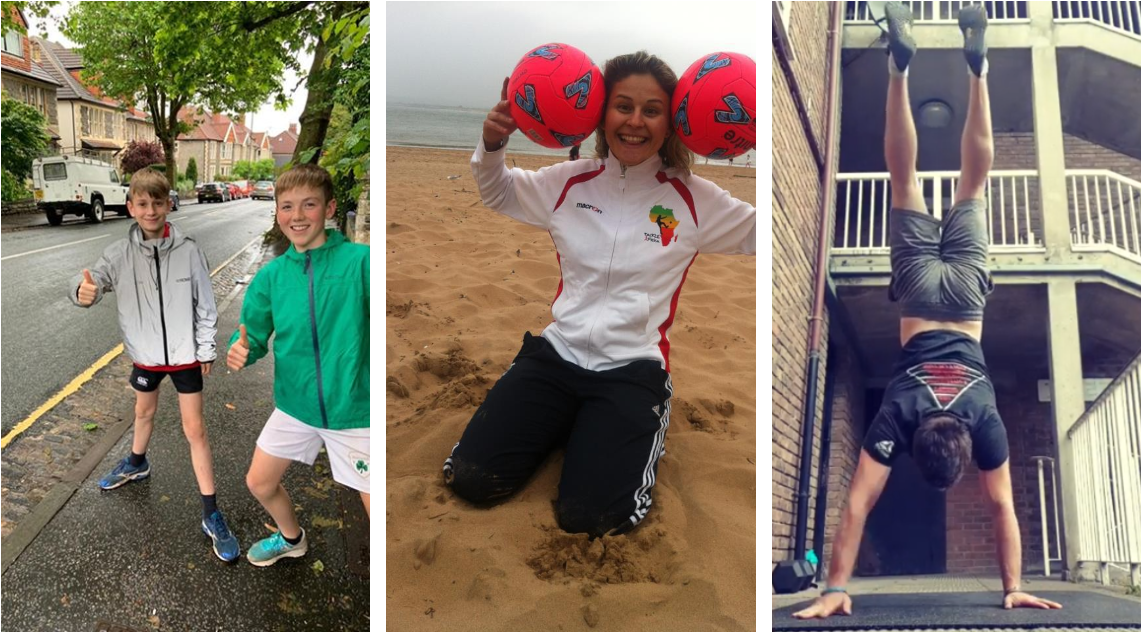 Neil Watkins
On the 13th of June, the day the annual London Football Marathon was set to take place, Neil Watkins ran his own marathon (26.2m) and raised £2,631 – smashing his target of £2,000) – to put towards the Race to Africa total. Neil felt he'd fill the void of the London Football Marathon this summer by once again supporting TackleAfrica, an organisation he is an ardent supporter of; "it's an amazing charity that really makes the most of its resources, with an innovative approach to fighting HIV and educating young Africans about vital sexual health messages". The run went smoothly, and he crossed the line in three hours and 48 minutes despite only recently coming back from a long-term injury.
John Miller
Our chairman, John, celebrated his 10-year involvement with TackleAfrica by taking part in the Race to Africa. He walked 100km in June, cycled 100km in July and climbed (Yes – Climbed!) 1000m in August. Aiming to raise £1000+, he surpassed that, raking in £1,500! John told us the reason he's so passionate about TackleAfrica: "it makes a real difference to the lives of thousands of young people and does so through a fantastic African and UK team, that puts into practice real and tangible people-orientated values".
Team Swiss
Pier, Walo, Vroni, and Marc aimed to raise an extra £500 towards the Race to Africa by mountain biking 500km along the Swiss alps, with an elevation of 50km. They are huge advocates of TackleAfrica and said they wanted "to support the team in their quest because we realise the challenges around HIV and sexual health education in Africa, and the great work they do to make a big impact". They ended up cycling over 600km.
Eoin O'Halloran & Alex Auton-Green
Eoin and Alex ran a total of 57km between them in just five days and in doing so smashed their fundraising target of £100 having been sponsored £540 overall! The two trained together before lockdown so teamed up to contribute to the Race to Africa. They loved the idea of a virtual race and decided to raise money for TackleAfrica inspired by the fact it "helps prove such good rights for children in Africa". Heroes, Eoin and Alex carried on even in harsher weather – running 10km each in the rain.
Tatyana Park
Tatyana took on the challenge of walking, running and cycling a cumulative 200km over the time of three months in order to do her bit for the Race to Africa. Raising well over £500, Tatyana is glad to be able to help out TackleAfrica once again; "it's an amazing charity I have been supporting for nearly 15 years which makes a real difference to the lives of thousands of young people in Africa. It is an organisation with incredible values and vision run by amazing staff and volunteers!"
George and Matty
George and Matty planned to cycle the length of Lesotho, aiming to cover 1000km each across the time period of the Race to Africa. Sadly for them they both got injured so had to stop at around 700km a piece – still a cracking effort. The lads have raised £470 between them which is an excellent contribution to the overall campaign. It's a shame they were both blighted by injuries, but we're proud of them nonetheless and incredibly grateful for their support.
Team Handstand
Doug, Lucia, Megan, and Piotr embarked on the most unusual individual challenge. 'Team Handstand' set out to walk five cumulative miles in two months. That may not sound particularly impressive had they not done it upside down! The team made handstand-walked five miles between them, and Doug managed to conquer his personal goal of two whole miles himself which is an inhuman achievement. He did also aim to cover 60 metres consecutively on his hands, but he's still working on that having managed 40 metres so far.
Hawks
Regularly involved in our summer Football Marathons, The Hawks have teamed up and together aimed to get themselves (virtually) as far as Nairobi. Nine of them have been involved and they've covered the ground predominantly by cycling, but with a substantial distance on foot too. Their campaign has had an effect on more than just the Race to Africa; "one of them has had to buy a new suit as he lost so much weight!" said, Ben Bryant. Win-win!

Kate, Caroline and Julia's story:
The benefits of the Race to Africa extended beyond just fundraising for TackleAfrica, some, such as Kate, say the campaign has inspired them to get active: "As a trustee for TackleAfrica I was expected to do my bit to support the organisation but I never thought R2A would trigger such a change in my daily life."
Kate decided to get involved with some friends, so they could encourage each other to keep going; "we would wake each other up with messages from our homes in Brighton, Cambridge and Edinburgh to share where we were heading, weather conditions and then shared post run debriefs- with pictures, stories of which body part hurt the most and how many people had overtaken us! A local friend joined me in the park and has become one of the gang provided additional motivation to get up and put on the lycra
She said she hadn't been particularly active before, so the R2A helped her turn over a new leaf; "I had a social netball habit but not a lot else so was not expecting to make it very far, but we sent in our kilometres to TackleAfrica, fleeced some relatives for some cash and felt proud doing our bit
Congratulations to Kate and everyone else who pulled themselves out of bed to get involved, help and maybe even discover running (or cycling/walking/swimming/handstanding) as a newfound hobby!." "
TackleAfrica staff lead the way!
24 staff members took part in the Race to Africa racking up a total of 2,724km across the UK, Europe and many of our African host countries. The top three, Marco, Sanou and Yianny travelled 1,307 between them, which is an incredible achievement. Rebecca also deserves a shout-out for running 162km AND swimming 10km on top of that, which we think is rather impressive!
The Game Changers – Landmrk, The European Space Agency and one of our biggest supporters AJ3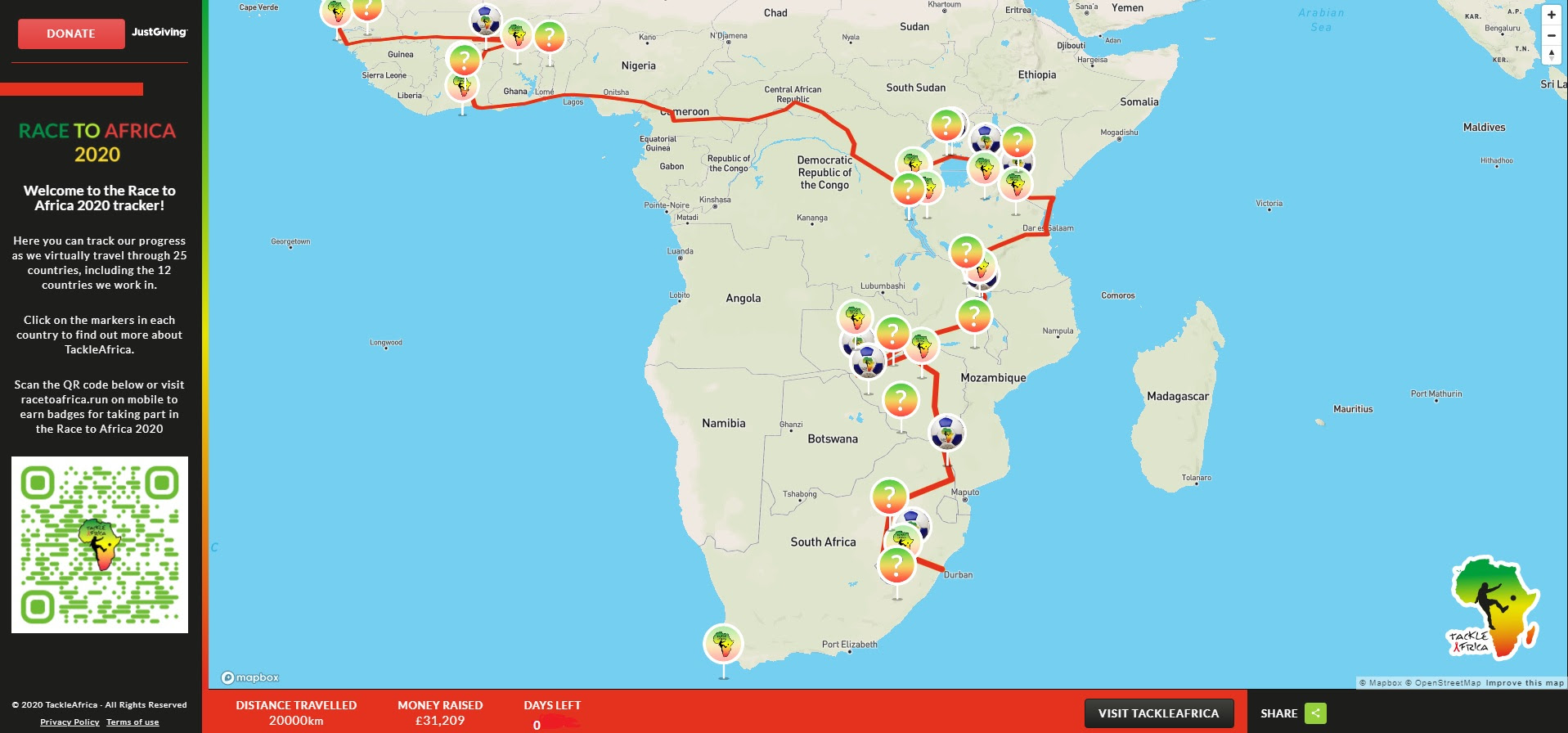 We certainly couldn't have run such a successful campaign without our partners. Landmrk made it possible to fulfil our grand plan of bringing the Race to Africa to life with their interactive live tracker funded by the European Space Agency. They developed our mobile site and website, making the campaign easy to learn about and get behind from our supporters point of view by providing a platform for facts and challenges along the route we (virtually) took to Durban – even developing a badge platform for those who participated. This would not have been possible with our scale and capacity, so we owe a lot of gratitude to Landmrk and the European Space Agency for signing up to the project. Click on the map above to find out all about our work in the 12 countries, 12 physical challenges you can take part in and the 12 must sees (Beware of the Buffalo!)
Landmrk's work allowed us to engage the audience of another of our partners, AJ3 (Andy Castell). They donated £5,000 worth of augmented reality footballs (worth £1 each) that could be redeemed during Andy's spin off campaign that allowed us to round off the summer of R2A perfectly. The footballs were part of the mobile app and could be claimed during Andy's 12-hour livestream which enabled us to use Twitch as a platform, and open up TackleAfrica to his followers who showed outstanding support for AJ3 and ourselves. This proved to be an astounding success as all 5,000 were collected after just eight hours!

Andy was delighted to be on board, and continue his support for TackleAfrica following his visit to Uganda with us in 2016; he was just as excited to celebrate the announcement of James Rodriguez' transfer to Andy's beloved Everton during his 12-hour stint! With 97,273 total viewers, AJ3's stream raised almost £14,000 on its own, helping us to absolutely demolish our target. We are extremely grateful to Andy, and everyone who backed him – including some outrageously generous donations, the top being £1,500 from 'littleboyben'.
AJ3 in Uganda with TA can be seen here
We must also mention that as an avid Everton fan he had promised to stream in a Liverpool shirt if the target was met…… Poor Andy!
Race To Africa 2021 I hear you say?
Despite the challenges we have all faced this year, TackleAfrica have been overwhelmed with the support and success of the Race to Africa and would love to take it further in the future.How about a real physical Race to Africa vs a Virtual one? Could your school compete to beat the rest of us? Or perhaps your company? If you got involved or just love the idea be sure to let us know, we would be delighted to discuss ways to evolve this event – feel free to contact us at